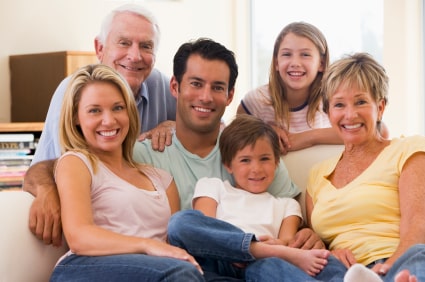 Family Therapy and Counseling By Family Therapist Caree Brown
Most often, an individual may be struggling with an issue which can be more easily resolved by including some or all of the family members involved. Often times, observing and defining patterns of interaction between and among family members can uncover why and how some individuals may get stuck in their efforts to improve their personal situation. Identifying and replacing these patterns with more functional and supportive ones often make all the difference in the positive outcome of their therapy. Family members will often see benefits similar to that of group therapy.
In addition to enhancing personal and couple growth, family therapy is able to raise the level of functioning of a family as a whole and how to deal with the uncertainties in life. Because all members are present at the same time, troublesome patterns of interaction can be identified more efficiently and often times more powerfully, as they can be corrected in the moment.
Helping Families
Everyone knows that all families (and step-families to a larger extent) have issues that can cause a lot of pain. For this reason, it is important to ensure that these things do not escalate to a point of no return. As such, Caree provides counseling services focused on helping build strong healthy families. Even during the most difficult of times, such as the loss of a family member or a strenuous divorce, our family therapy and counseling and therapy services can help you with handling your stressful life experiences in such a way so that you and your family can function and be able to live in a healthy manner. Family therapy sessions can teach you skills to deepen family connections and get through stressful times, even after you're done going to therapy sessions.
Divorce in and of itself can be an issue, but can also create additional problems, such as custody battles.
Helping a family define its vision as well as its principles and values is a vital part of building its own unique family culture. This goes a long way towards inspiring congruent expectations and happier outcomes. Parents will learn that rather than trying to "control" their children, their increasing ability to "inspire" them by sharing their own character struggles will go alot further in achieving a family culture of excellence and intimacy.
Parents often find it helpful to examine how they were raised, and how they have sometimes unwittingly allowed their childhood patterns to influence the kinds of parents they have become. Their deeper awareness often leads to a more conscious and usually more satisfying style of parenting.
Some of the "strategies" outlined under the Couples Therapy section can also be successfully applied to families as well. Family therapy is often short term and it may include all members or only who are able or willing to participate. As such, your specific treatment plan will certainly depend on your family's situation.
The Challenges Families Face
Caree's family counseling services can help both parents and their children with a variety of different issues, such as:
Parenting challenges
Experiences of trauma and/or abuse
Adjustments to separation, divorce, and blended families
Deaths in the family
Sometimes, families look to family therapy coupled with other types of mental health treatment, especially if someone has a mental illness or addiction that requires individual therapy or some type of rehabilitation treatment. Some of these instances may include:
Our family therapy can help family members cope if a one of them suffers from severe bi-polar disease; however, that person who has the disease should continue with their individualized treatment plan, which may include medications, one-on-one counseling or other forms of individual treatment.
If someone in the family has an addiction problem, the family can attend family therapy while the person who has an addiction participates in their own treatment. More often than not, family members may participate in family therapy even though their loved one with an addiction hasn't yet started their own treatment or currently refuses to go that route.
How we Help You Build a Stronger Family
As such, Caree will work with you and your family to find ways to address these challenges you are facing. Counseling and therapy provides an opportunity for you and your family to discuss your concerns, clarify what would be helpful, and strengthen your ability to make these desired changes to better your family. Depending on your specific and individual needs, Caree can support you in:
Discovering different ways to cope with the stress that is inflicting your life
Developing new options to solve the issues you or your family are experiencing
Learning how to improve your relationships and connections to others
Helping you get information you need as well as accessing resources that can help you
Contact Us
If you find that something above has resonated with you and find yourself interested in discovering more about family therapy and counseling sessions, please do not hesitate to contact us.